How Has the Typical First Time Home Buyer Changed?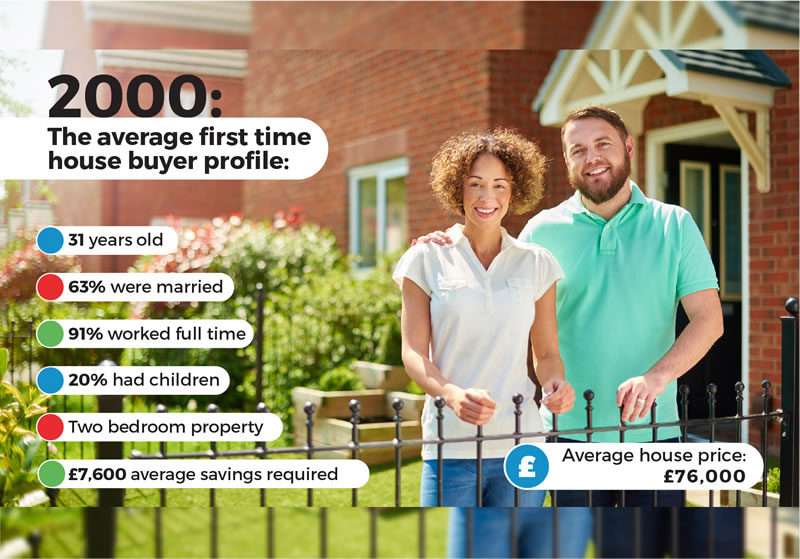 The property market is continuously in the news, from Britain needing more homes to the constant rise of house prices. Recent research from PwC has shown that London is set to become a city of renters by 2025, with only 40% of inhabitants owning their homes. This is in stark contrast to 2000, when 60% of Londoners owned a house outright or with a mortgage. Across the UK the numbers of first time buyers have fallen, but have they changed as well?
First Time Buyers: 2000 vs 2017
The average first time buyer has changed significantly from the turn of the millennium to 2017. For a two-bedroom property, the average price has increased from £76,000 to £171,870, with the average savings required growing in accordance, from £7,600 to £22,689 across the same period. What a typical first-time buyer looks like has changed too.
2000:
Average age was 31 years old
63% were married
91% worked full time
20% had children
2017:
61% are between 25 and 34 years old
80% are married
£35,000 is the average income
51% have children
Along with requiring greater savings and income, this shows that the average first time buyer now seems to be more settled, with the majority married and with children.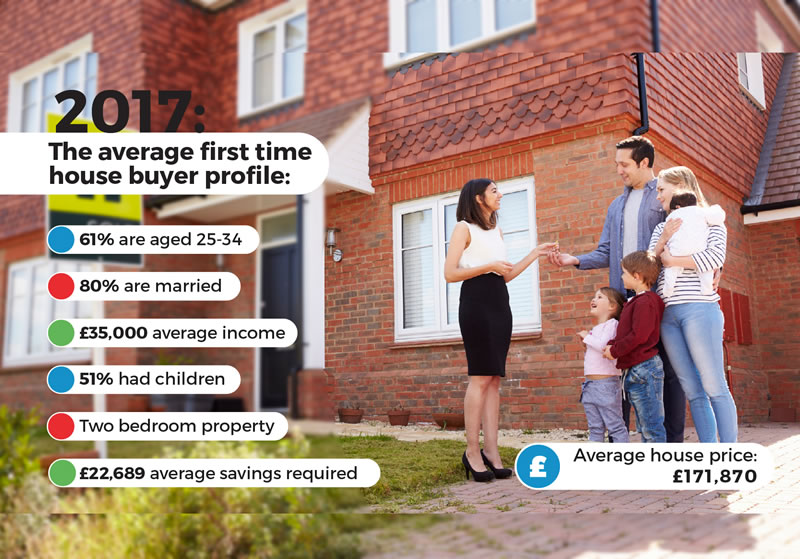 Property Sales and Lifetime
The number of properties bought has experienced a big dip since 2000. In 2000 there were 464,000 first time buyers, a number which mostly dropped to 359,900 in 2007. Then, when the global recession hit, this dropped rapidly to 192,300 first time buyers in 2008, where the number hovered around this until 2013 when the market started to pick up speed again with 269,000 property sales. Since then it has grown again, with 335,750 first time buyers in 2016, though this is still well below that of 2000.
With prices increasing and fewer first time buyers on the market, it makes sense that the number of years homeowners are staying in a property will change. Following a similar trend to the number of property sales, the average duration in years rose from 12 in 2001 to 15 years in 2007 and then 20 years in 2009. Since then it has dropped as the number of first time buyers increased, with the latest figures showing the average to be 13 years in 2013.
Housing Hotspots
Research into the most and least affordable places for a first time buyer unsurprisingly found that London districts offer the most expensive properties compared to local earnings. In areas such as Brent, North London, house prices are on average 12.5 times local earnings, while in Hackney and Haringey it is little better, 12 and 11.6 times as high respectively.
At the opposite end of the scale, the most affordable places for first time buyers were in east Dunbartonshire, where house prices are 2.6 times that of local earnings. Copeland, in West Cumbria and East Renfrewshire were next at 2.9 and 3 times local earnings. Pendle, Lancashire, North West and North Lanarkshire, Scotland are both affordable regarding cost and a good ratio versus expected earnings in the area, and Burnley, Lancashire is the most affordable location for FTBs by price alone (average £70,311,72).
Future Home Buyers
While the number of house and flat properties are increasing again, more apartment blocks are expected to be developed. This follows the trend for the shrinking garden sizes, which have dropped from an average size of 16.8m² in 1983 to just 14m² in 2015. Plus, there are fewer bungalows being built which, with an ageing population, means supply is not meeting demand and leading to an increase in such property prices.
If you're hoping to be a first-time buyer then you'll need to start saving up. Following the Hatched guide to buying a property can help you out and aiming for the more affordable areas. Otherwise, if you're hoping to live in London then renting looks like it may be the only option for years to come.