It's often said that moving to a new house can be the most stressful time in a person's life. And that's just finding a new place and moving everything you own – prior to this, the initial process of selling your house can be complex and time-consuming too.
However, online estate agents can help you tackle this problem and selling a house on the internet could now make your plan to move simpler than ever. So, what are the benefits of selling your property online?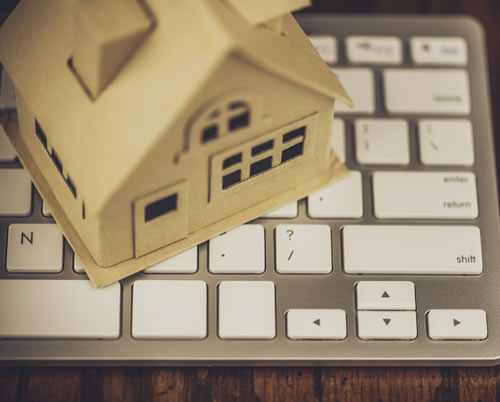 Reaching a Broader Audience
The first step that many potential buyers take in the home-buying process is heading to the internet to see what kind of properties are for sale online. Even those who aren't actively looking to buy might still browse online to see what's on offer!
Even if it's not the first place they look on their search, 92% of buyers have confirmed that they use the internet at least once in their hunt for a new home, so it's the best way to make sure your listing reaches as many potential buyers as possible.
When your listings can be accessed by a broader audience, you're more likely to enjoy a faster and more efficient sale of your house, therefore streamlining the whole moving process.
Reducing Selling Costs
Selling a house on the internet is generally cheaper than using a traditional estate agent. You could end up paying thousands of pounds with VAT on top, when you choose to sell with a high street estate agent – they usually charge between 1.5 and 4% of the eventual sale price.
In contrast, online estate agents will charge a flat fee of between £400 and £1000 and can offer many of the same services that a traditional estate agent does. So, if you think that most of the interest for your listing is generated on the internet, using a cheaper online agent makes sense.
Making it Easier to Sell
Listing your property online is not only a fast process but with an online estate agent like our own, you're supported in every step of selling your house.
We would manage your property details online, arrange viewings, negotiate offers and use our expertise to provide you with valuable advice about selling a house on the internet. What's more, we'll be available to accompany on any of your viewings, whatever the time, unlike many other online agents. And to make this process even easier, we'll even send automated confirmations of viewings via text!
Other Hatched Benefits
If you needed any further convincing, here are some more benefits of selling your house on the internet:
Smarter advertising on a wider range of online advertising platforms like Rightmove, Zoopla and Primelocation
Expert advice from experienced estate agent professionals
Our agents will personally visit your home to take photographs and write the descriptions
We have plenty of local knowledge and regional offices all around the country
With online agents able to offer just as much as traditional estate agents (if not more), as well as having a wider reach for potential buyers and lower prices, it may be the smart decision to make when you're selling a property. All the benefits offered by online estate agents can mean that you'll enjoy a straight-forward and stress-free process when selling your house online.