When searching for a new house, 42% of potential buyers have said that the first place they look is online and 92% use the internet to browse at one point in their search for a home. These figures show that buyers like to search for homes at leisure and the internet has provided them with an easy way to do this. So, the internet is an important tool when it comes to buying and selling houses.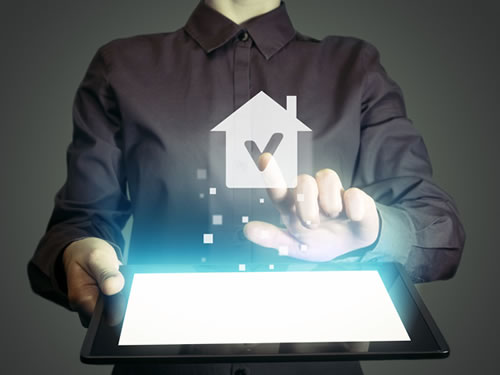 A relatively new phenomenon, online estate agents are already steadily growing in popularity, so we thought we'd answer some of the frequently asked questions that people are searching for when buying and selling houses on the internet.
What do Online Estate Agents Do?
Online estate agents actually do the same as traditional ones – they'll go to your property and take professional photographs, draw floorplans and write the descriptions for potential buyers and manage your listings.
Your online estate agent will also arrange viewings and feedback, keeping you updated via phone or by text message, and the best online estate agents will also offer to attend viewings with you.
Why Choose an Online Estate Agent?
There are many misconceptions about online estate agents. For example, people mistakenly believe that online agents won't help to arrange viewings, accompany sellers to these, negotiate offers and deal with the exchange process.
However, this isn't true of all of them – the best online estate agents will be able to provide all the above services and more.
With knowledge of the best places and methods to advertise your property for sale online, online estate agents will usually list your property on popular websites along with Rightmove and Zoopla, which is a service that traditional estate agents can't offer. So, if you think that the internet is where your home will garner the most interest, then it's worth considering an online agent over a high street one.
Are Online Estate Agents Cheaper?
Traditional high street estate agents charge around 1.5% - 4% of the property's selling price. So, if you sell your home for £300,000, for example, you'll be paying £4,500 commission to the agent at the very minimum.
When you use an online estate agent, they usually charge a flat rate that will fall somewhere between £200 and £1,000. A bargain when you compare the similarity in the services offered by online and high street agents.
Who are the Best Online Estate Agents?
We might be a bit biased, but here at Hatched, we can offer you a bespoke service that no other agent – whether high street or online – can match.
We're the only online estate agent who have an in-house mortgage team to offer you advice, we keep connected with you by sending automated text messages to confirm viewings and we will accompany you on viewings 24/7.
Plus, we have experts in smarter advertising on search engines and social media to make sure your property gets the most exposure and reaches the most potential buyers.
Are Online Estate Agents the Future?
By 2020, it's expected that half of homes in the UK will be sold online. With the added convenience that online estate agents bring, business can take place outside of normal working hours (which saves busy professionals fitting in viewings on their lunch hour). What's more, there are no extortionate fees like with a traditional estate agent, which is appealing to many property owners hoping to sell.
If you're looking for the best way to sell your house, you should consider using an online estate agent. With a flat rate for fees, online advertising expertise and all the services you'd expect if you opted for a traditional estate agent, buying and selling houses on the internet is fast becoming the norm.