If you're planning to sell your house, it's likely that you'll be considering listing it online for potential buyers to access. Choosing to sell your house in this way makes sense as 42% of buyers tend to go online first when starting their search for a new house. Even if it's not the first place they look, 92% of buyers use the internet at least once during the buying process.
By taking into consideration the kind of things that buyers look for when they're browsing online, you can better tailor your house listing to appeal to potential buyers directly and hopefully make the process of selling your house on the internet more efficient.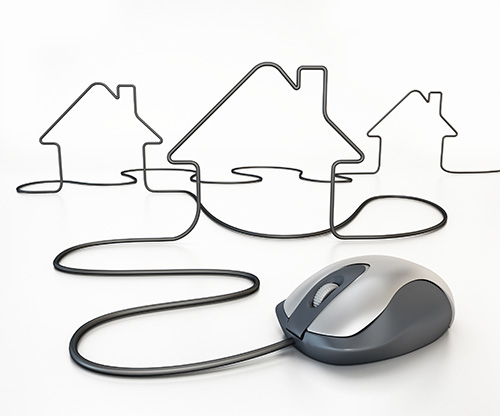 How Long do Buyers Take to Decide?
Research has shown that buyers spend less than half an hour viewing a property before they've made their decision to buy. In fact, one in eight people admitted that they'd made their mind up about buying the property even before seeing it in real life! For one of the biggest financial commitments they'll probably make, this seems absurd. However, with increasingly detailed listings available online, high definition photos, virtual tours of the property and even the opportunity to research the area using Google maps and other tools, buyers can get a good sense of the property even before arranging a viewing.
So, ensuring your listing contains all the information that a buyer might need to help speed up their decision-making process is crucial.
What Information Are They Looking For?
When thinking about how to sell your house on the internet, you'll want your listing to showcase your home in the best light, so that it appeals to potential buyers online. Accurate details, a good floor plan and clear photographs will encourage potential buyers to enquire further about your property.
Luckily, we can assist with this. At Hatched, we'll go that extra mile and one of our agents will personally visit your house for sale to take photos, measurements and floor plans – as well as write the description for you. As experts with many years of experience and local knowledge, we'll be able to create appealing listings, as well as smarter advertising processes to help you reach a wider audience of buyers.
Do Buyers Still Want Physical Viewings?
Even though searching for houses online is now the norm, most buyers still want to see a house in real life before committing to buy. Your photos online can attract the interest of potential buyers, but seeing the property itself is what will seal the deal.
When you sell your house with an online agent, we help make the process easier by helping you with all the admin, as well as accompanying you on all the viewings, whatever the time.
All you have to do is make sure your house is in pristine condition and lives up to, or exceeds, the expectations set from the photos on your online listing. Have a thorough declutter, tidy and clean of your house and, before any viewing, open some windows to let some fresh air in. Don't forget about the exterior too – your garden can be a big selling point for buyers, so it could be worthwhile to cut the grass and put out some potted plants. Also, make sure the front of your house has curb appeal in case any potential buyers might want to do a drive-by viewing of the property!
If you're wondering how to sell your house on the internet, it could be worth it to think about what potential buyers will be looking for when they see your property listing online. From there, with help from your online estate agent, you can create a listing that appeals directly to them, enticing them to view the house in person and hopefully making the selling process more efficient.