Rather than heading to the highstreets to traditional estate agents, you could sell your house online quickly and easily. There are plenty of additional benefits you can also enjoy if you choose to sell your home this way, these include: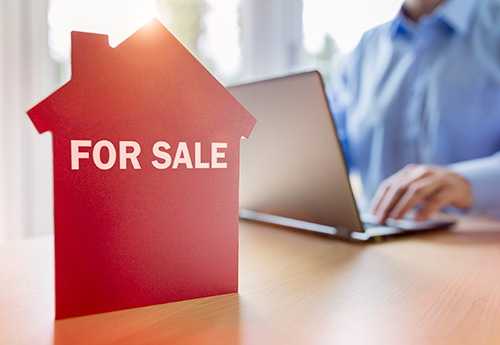 Not having to go through several visits from estate agents to get your home on the markets
It can be a lot cheaper to sell online
You can have greater control over how you market your property
So, to make the most of this, here's what you need to do:
Speak to Hatched
The first thing is to get in touch with a reputable online estate agent like Hatched, as we have the services you need to quickly get your home sold.
Select a Service
Once you've got in touch with us, you can find a few different service options to consider for selling your house online. Details of which can be found here and as you'll be able to see, we can assist you with all aspects of selling your home – only with far less hassle.
Get a Valuation
No matter which service you choose, you can get a home visit from a Hatched employee who can offer advice around the best pricing for your property. You can also apply for a free valuation by filling in a few details.
Create your Online Listing
After this you need to create your listing, so instead of the back and forth you can get with a traditional estate agent when creating this, we can do it all in one visit. The measuring of the rooms in your home will be sorted, as will the images to accompany the advertisement for your property. Then, in only a matter of days, your home will be listed online on the Hatched website and then on major property selling websites like Zoopla and Rightmove.
Arrange your Viewings Online
After your home is on the market, you need to arrange viewings. Once again this can be really straightforward with us, as it can also be sorted online and via email as well as by text. Our automated system will inform you of any viewing requests, leaving you with the simple task of approving, again via email or text.
Exchange and Completion
Hopefully you'll have plenty of interest thanks to your online listing and will then soon receive an offer that you're happy to accept. So, when this happens you'll need to exchange to complete the sale.
This is where your solicitors will do their part by creating the contracts, carrying out the 'searches' and sorting out any paperwork and legalities with the buyer's respective solicitors.
When all this is approved and both parties are happy, the contracts can be exchanged, deposits paid and the sale completed.
Enjoy Great Customer Care
If this method of selling your house online sounds appealing, then simply get in touch with Hatched and follow the above steps. With our experience and expertise, we will also be on hand to help you through each part of your online selling journey, to again help make sure you can enjoy the benefits this method of sales can provide.