Now that 2018 is well underway, what better time to reflect on how the property market fared in 2017 and what we can expect from it in the coming year.
The year has continued to feel the ripples of political uncertainty caused by Brexit, and concerns on how this would impact on household finances. This has led to forecasts that the growth of national house prices was likely to slow by half in the coming five-year period.
Is the property market observing these predictions? And what's in store for it in the coming year? This post takes a closer look...
A Property Market Review of 2017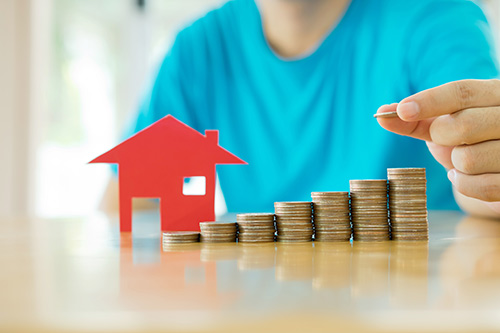 The UK housing market saw some big changes in 2017, including:
Stamp duty scrapped for first-time buyers purchasing a property under £300,000
Stamp duty exemptions on the first £300,000 for those buying homes worth up to £500,000
Ongoing effects of policy changes in how landlords are taxed on their portfolio
The proposed abolishment of letting agent fees
An increase in the numbers of new homes built, up 20% in 2016-17
As discussed, Brexit was a major factor that created uncertainty across all areas of the British economy last year and its impact was felt on the property market in particular. Mortgage approvals fell at the start of 2017, despite an increase in consumer credit (i.e. people borrowing money on credit cards, loans and car finance etc). As such, 7.5 million adults put off plans for moving to a new house last year, blaming the increasing cost of living and difficulties securing a mortgage or remortgaging following the Brexit vote.
However, the government's Help to Buy scheme continued its steady growth. Introduced in 2013, the scheme allows potential first-time buyers to get on the property ladder with just a 5% deposit. And this incentive seems to be working. In 2017, there was a 6% increase in first-time buyers in the space of a year, and a total growth of 37% since the Help to Buy scheme was introduced four years earlier.
2018 Property Predictions
So, what does 2018 have in store for the property market? Let's take a look at some of the changes we might expect in the coming year:
House Prices to Fall in London and Rise in the Rest of UK
Rightmove have predicted a 2% fall in house prices in the UK's capital, however this is accompanied with a forecasted rise of 1% across the rest of England and Wales.
London's house price growth is predicted to fall below that of other regions in the next five years, bucking a trend that has stretched back decades. If you're looking to buy a property in 2018, contact an online estate agent like ourselves to find the best locations to buy in.
In particular, Yorkshire is set to grow at more than twice the rate of London over the next five years, especially in York, Leeds and Hull. This is great news for both landlords and renters in this county, with more properties and a booming market.
More New Builds Available
80% of all sales on new developments are being assisted by the 'Help to Buy' initiative and it is great news for the property market that the government haven't withdrawn this scheme. An incentive like this means more young people can get a foot on the property ladder and boost the new build market.
The 'Build to Rent' scheme is gaining in popularity too, helping to simplify the process for both tenants and landlords. It encourages the development of more homes to meet demand, whilst providing more affordable properties for those renting. These are positive steps for both those looking to buy and rent properties in 2018.
The impending ban on tenant fees (promised by the government to be introduced this year) could have two potential effects on the rental market.
With fewer fees to pay, people may be more inclined to continue renting properties rather than buying. However, it may lead to increased prices of rent and a decreased supply of properties available to rent, especially with the tax changes forcing 20% of landlords to reduce the number of properties in the portfolios, according to the National Landlords Association (NLA).
As a result, the rental market may lose out to first-time buyers taking advantage of Help to Buy schemes and the new opportunity to save up to £5,000 now that stamp duty cuts have been introduced.
Our predictions for 2018 show ongoing uncertainty following Brexit, but it has the potential to be a good year for existing homeowners outside of London, particularly in Yorkshire, and for first-time buyers looking to get a foot on the property market.