Online portals have transformed the property market and they continue to be a popular platform for people to sell their houses. As well as providing considerable savings for sellers, research has shown that 92% of potential buyers use the internet at some point in their search for a new home. That means that listing your property online could give it greater visibility with buyers and potentially speed up the sale process.
There are many online portals you could use to sell your house, including Rightmove, Zoopla and Primelocation, which are the preferred options used by online estate agents like ourselves. Once you've found one you want to use, we've come up with a few ways you can make sure you get the most out of your online listing.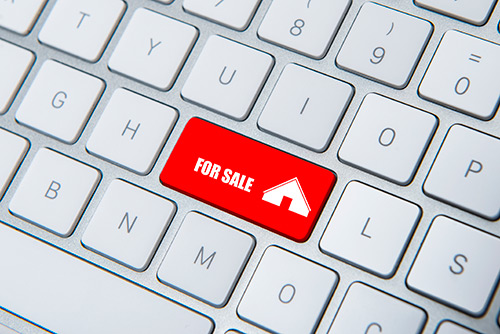 Take Time to Prep
It's important that you take the time to prepare your home for sale – presentation can make all the difference when listing your property online. High-definition photographs showing a well-decorated, clean and welcoming home will be more likely to attract the attention of buyers and encourage them to book a viewing.
However, even before a potential buyer has enquired to view your online listing, they might decide to drive by to get an idea of what the property is like. That's why kerb appeal is essential in helping your property sell! Invest in improving the appearance of the front of your house so that it attracts buyers both online and in real life!
Check the Listing Details
Proof-read your listing before it goes live. Then proof it again! We can't stress the importance of having an accurate listing with all the correct spelling and punctuation. Any mistakes are likely to put off potential buyers as it can look unprofessional.
However, if writing isn't your strong point, most online estate agents provide services to write an effective listing, along with a floorplan, to help you sell your property online.
Consider Paying to Go Premium
According to Rightmove, their 'Premium' and 'Featured Property' listings attract ten times more viewers than standard listings. But what do they do exactly? With the 'Featured' listing, the property is listed twice – once at the top of the page and again within the search results. With 'Premium', the listing features a red sticker that immediately catches the buyer's attention when searching online for properties.
Similarly, Zoopla's 'Featured Property' listing places your ad at the top of search pages for a week, so they get maximum exposure from potential buyers.
Conduct Your Own Viewings
When listing your property online, the online estate agent will usually arrange viewings on your behalf, but you may have to conduct the viewings yourself. This, however, might be beneficial for you as who better to sell your property than yourself? You're the perfect person to give all the benefits of living in the property, as well as the local amenities and public transport networks nearby.
Online estate agents like ourselves give you the option of having an expert there to accompany you on viewings, at any day or any time you need it. Alternatively, we can also arrange an open house for viewings too.
Take Advantage of the Online Benefits
One of the best things about selling your house on online portals such as Rightmove and Zoopla is the fact your listing is available to view 24/7 and those interested can enquire at any time. Unlike a traditional high street estate agent that's only open on weekdays and during office hours, potential buyers don't need to make a trip there to see what's available. Your listing can be accessed at any time, day or night.
Another advantage of using online portals is the ability to share links to your property listing and market it on social media. Whether you want to share it yourself, or pay for an online agent to use sponsored ads, the internet allows for greater visibility when selling your home.
When you're using an online estate agent or an online platform to sell your home, follow our tips to get the most out of your internet listing. These can put you in a better position to get a great price for your property, as well as a quick sale thanks to the maximised exposure it'll receive!