The job of an estate agent encompasses many things and their responsibilities can range from marketing, customer service, sales and admin. To add an extra dimension, they may specialise in selling commercial or residential properties and they might even be a qualified chartered surveyor.
Estate agents can be employed within independent local estate agents, a local branch of a large firm or work for an online estate agent, but their roles are all largely similar. Here's some of the things that are included in the job description for an estate agent, whether it's an online agent or a traditional one: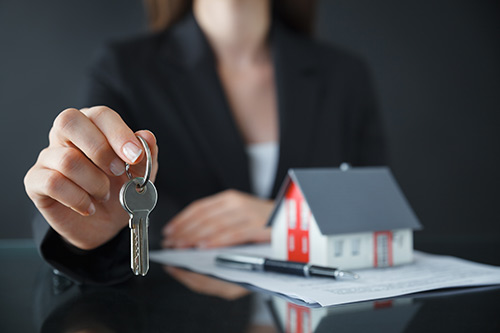 Local Expertise and Up-to-Date Knowledge
Estate agents must have extensive knowledge in their field, including up-to-date information on:
Property valuation
Market conditions
Legislation
The local property markets
This allows them to advise their clients on the best course of action through each part of the property buying process. It's important than an estate agent is completely familiar with their territory, so they can get the best deal for their clients.
Valuing Properties
Estate agents are not required to deal with surveys, but they might have a partnership and recommend one for you.
Alternatively, your estate agent might also be a chartered surveyor themselves, which means they can also perform full surveys and valuations of properties, following the professional standards set out by the Royal Institute of Chartered Surveyors (RICS). Along with valuing the property, they'll also look for structural defects in the building and any related environmental issues that might affect the property.
Content Marketing
A key part of the job, especially for estate agents based online, is creating content. They're likely to use their expertise to create the content for marketing collateral, brochures, property listings and email newsletters.
They maybe even produce some content marketing for the firm's website or blog, helping their firm gain increased exposure online by creating genuinely interesting and useful content to draw people to the website.
Customer Service and Conducting Viewings
Not only do estate agents handle all enquiries about properties from potential buyers, they also arrange viewings and travel to properties to conduct them. This requires a high level of customer service and selling skills.
Not all online estate agents will do this for sellers, but some do. For example, here at Hatched we make sure we have an agent available at any time of the day if a seller has requested it!
Managing the Negotiation Process
An estate agent will often negotiate offers for their clients who are buying or selling properties.
When acting on behalf of a seller, they will get information from each potential buyer about their financial position, whether they can proceed with the sale (for example, if their mortgage has been agreed in principle) and whether they're part of a chain. It is with this information that a seller can choose to accept an offer.
Admin Jobs
Most jobs include a bit of admin work and the role of an estate agent is no different. A part of this includes responding to email queries, answering phone calls and managing viewing appointments/other bookings. They will also liaise with solicitors and monitor the chain of buyers selling their old homes and sellers buying new homes.
Estate agents are also responsible for ensuring accurate paperwork for their clients, so all the i's are dotted and the t's are crossed on contracts. Some of the paperwork includes: proof of identity, property title deeds, fittings and contents forms, property information forms, leasehold documents and energy performance certificates (EPCs).
So, there you go – a snapshot of some of the things that traditional and online estate agents might spend their working day on! As you can see, they do a bit of everything including marketing, customer facing roles and administrative work, whilst having in-depth knowledge of the local housing market and legislation. We couldn't think of anyone better qualified to sell our homes!