If you're a first-time buyer and thinking of getting on the property ladder soon, make sure you've got all the information when searching for the right house or flat. You may be planning to trust your gut instinct, and it's important that you do fall in love with the property you decide to buy. However, you've also got to make sure that you're protecting your investment.
One of the best ways to do this is during the viewing process. Once you've found a property you like, don't just settle on seeing the pictures on the website of an online estate agent - arrange to view it in person.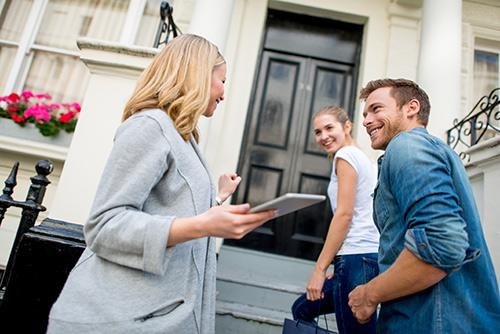 Here at Hatched, we've developed a checklist of best practices and what you should look out for when viewing a property with the intention to buy:
Take Your Time
Your home is probably going to be one of the most expensive purchases you'll make in your life, so don't feel pressured to rush! A viewing that lasts around half an hour will give you a good feel of the place and enough time to ask plenty of questions about the property.
It'll also give you more opportunities to spot potential problems. For example, if you catch a musty scent in the room it might indicate signs of damp, even if you can't see it at first glance.
Ultimately, taking your time and gathering as much information on the property will give you a stronger footing to negotiate a lower price.
View the Property More Than Once
Time constraints may not always make multiple viewings possible but seeing the property twice or more is another way of helping you spot any potential problems that you might have living there.
It's best to arrange several viewings at different times of the day to get an idea of how the traffic, surrounding noises, parking availability and the light changes. For example, you might notice that there's plenty of footfall past your front window during rush hour, which may compromise your level of privacy!
Research the Neighbourhood
A few of the major consideration for buyers is the safety of the surrounding neighbourhood, whether there are good schools in the area, local amenities (such as cafes and shops) and if there are transport links nearby.
It's worth taking a walk around the area and making notes of what's available in the vicinity. If there are schools in the area, you can look up their Ofsted reports to see if they're good schools that are suitable for your children. You can also look up how the crime rates compare with other areas on police.uk and whether there are any sewage works in the area… Being downwind of these, for example, could seriously affect how much you enjoy living at the property.
Look at the Building's Structure
We advise walking around the building and checking the exterior to make sure the structure is sound. Hairline cracks in the wall, missing roof tiles and broken guttering could point to a larger problem. To save you time and money in the long-term, you can ask whether these problems can be fixed before the sale of the house.
If you're not sure what to look for, it could be useful to get an independent house survey done. This is different from a valuation survey as it will look at the condition of the property and help you uncover any hidden issues with the house you're considering buying. All in all, this could help you save money on expensive repair bills in the future.
Clarify What Land You'll Own
If it's not immediately apparent who owns a garden or parking space, this is the time to ask. We recommend asking for it to be confirmed in writing too, to avoid any hassle in the future. This also goes for shared spaces and which fences you'll be responsible for etc.
There may already be an agreement in place with your neighbours about boundaries – check the deeds to see if there's already an existing boundary agreement and if not, have a chat with the neighbours to see if they would be happy to create a new one with you.
Don't Forget the Details
It doesn't hurt to check the little things, like whether the light switches are working, the taps and water pressure are fine and that the windows and doors are all in good working condition. You might think it seems a little pedantic to do this during a viewing, but these costs can all add up and you don't want to discover there's an irritating problem once you've moved in!
So, there you go. If you're a first-time buyer, use this guide as a checklist of everything you should check when viewing potential properties to buy. When you're confident you've got all the information you need, you can go ahead with your purchase knowing that you've potentially saved yourself a lot of time, hassle and money in the future. Happy viewing!