We're all daydreaming about when we can finally turn down the heating and pack away the winter wardrobe. The warm summer climate is edging closer, and we think it's a good time to start preparing for a move!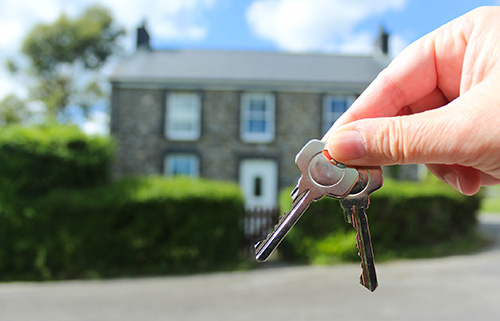 There are many benefits to selling a house in the summer. For one, you'll be able to get much better photos – the lighting is better, the flowers are in bloom and everything just looks more appealing in the sunshine! Plus, you won't need to pack your moving van and lift all those heavy boxes in the cold wind and rain.
So, if you're looking to move to a new house this summer, here are some tips to help you sell your property quickly…
How to Get Moving Quicker!
As experts in selling properties, we thought we'd share a few techniques that could help you sell your property quicker, especially in the summer months:
1. Use a 'For Sale' Board
Up to 20% of enquiries come from 'For Sale' boards outside of properties, so it can be a valuable marketing tool when you're selling your house. In the summer months, there's likely to be more footfall as people are out and about more than in the winter, so having one up could generate interest in your property.
You can get a board plus installation for free with an online estate agent like ourselves, making it a cheap and easy way to create a buzz around your property straight away!
2. Professional Photography
Capture your house in the best light by choosing an estate agent that offers the services of trained photographers. They'll have the equipment to take high-resolution photographs, as well as knowing the best camera angles to make each room look its best.
Having professionally-taken images could pique a potential buyer's interest online and encourage them to view your home in person. As mentioned earlier, you can give your photographer an extra helping hand by selling up in warmer months, which will give your pictures a welcoming summer glow.
3. Upgrade Your Listing
People are going online more than ever to look for their new homes as these websites are easy-to-use and accessible 24/7.
Give your property a better chance of reaching potential buyers on the internet by using an online estate agent like ourselves. Not only do we have the expertise of listing and selling properties online, but we also have the tools to upgrade your listing to "Rightmove Featured Property" or "Zoopla Featured Property". This means your listing will appear at the top of every search, so your property has the maximum visibility and you'll have a better chance of a quick sale.
4. Virtual Reality Tours
Thanks to technology, potential buyers can now look around your home without even leaving their house!
Setting up a virtual tour is a great way for them to get a feel of your house before arranging to view it in person. Not only is this more convenient for the buyer, it will also reduce the number of time-wasters for you – those who arrange a viewing will be potential buyers who are actually interested in your property.
This is a great way to give buyers a way to browse at their own leisure. As the most expensive thing they'll probably buy in their lifetime, it's not a decision to be taken lightly!
5. Social and Digital Marketing Pack
When you sell your house with us, we offer an expert in-house marketing team, who can develop a social media strategy to target buyers in your local and surrounding area.
They'll create Facebook ads and PPC campaigns to increase your exposure and therefore your chances of finding a buyer. If people interested in buying a house see a targeted ad for your home, it might encourage them to do more research. They might look at the listing online and even drive by to check out the area before they contact you to view it.
Get Your Property Noticed
When it comes to selling your home, all of the above tools (available with the enhanced package here at Hatched) can help you ensure a faster and smoother sale.
You can make sure your property gets maximum exposure both online and with passers-by and potential buyers will have plenty of information with detailed listings, professional photos and even a virtual tour.
So, when's a good time to get the ball rolling? If you decide to sell in the warmer months, you could enjoy more footfall and greater curb appeal, thanks to the light evenings and the flowers in bloom. Plus, you won't have to move your boxes in the rain or snow… We're sold – summer is the ideal time to sell your house and move somewhere new!