Over the two weeks of Easter last year, a staggering 11 million people used Rightmove in their search for a new home. Maybe it was the extra free time they had over the long Easter bank holiday, or perhaps two full weeks in the house with the kids made them realise they needed more room or a bigger garden!
People are increasingly heading to online estate agents and property selling portals like Rightmove when hunting for their next home. Here at Hatched, we thought we'd take a look at why this is…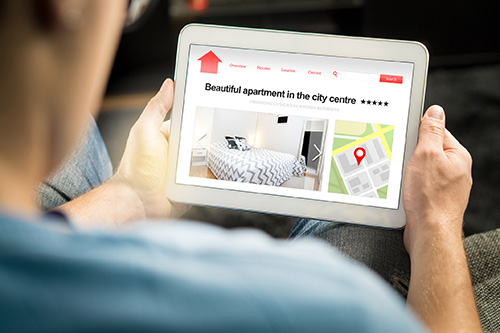 Easy Access to Listings, 24/7
Heading to the Rightmove website or clicking on the app from the comfort of your home couldn't be easier. Gone are the days where you had to run out on your lunch break to view a property, so you didn't miss a high street estate agent's opening times…
You now have thousands of houses right at your fingertips 24/7 – so any spare moment you have can be spent scrolling through property listings. It's no wonder the market share of online agents has doubled in the past couple of years. Although high street agents still have a significant lead, we can't ignore the incredible speed of this growth!
Less Awkward Viewings
The great thing about online property listings is how detailed they are. They'll have in-depth descriptions, photos, floorplans, maps and even virtual videos showing you around the house.
All of this means you can get a good feel of the house without having to arrange a physical viewing. And if you do decide you like the look of it, that's when you can commit to taking the time to visit it in person. Let's be honest, we're sure you'd take the opportunity to limit the amount of inconvenient or awkward house viewings!
If you're on the other side of the coin and trying to sell your home, just be aware that potential buyers are likely to make their judgement largely from the photos attached to your listing. So, you should do everything you can to attract the attention of buyers – make sure you hire a professional photographer to take the images and don't fall victim to any dodgy décor that might put buyers off!
The New Generation of Homeowners
Perhaps due to the huge role that tech plays in their everyday lives, it's unsurprising that millennials are the generation most likely to look online for information when buying a house as the first step in getting on the property ladder.
56% of people in this age category said that they were most likely to find a home to purchase using the internet. 93% said they'd use the internet at some point in their search and 86% said they'd use a mobile device to find a house online.
With tech savvy young people accounting for many potential buyers of properties, this new generation could cause a shift in the way that people buy houses, with increasing emphasis on the convenience that online estate agents can offer.
Could This Easter See Even More Visitors to Rightmove?
With the use of online estate agents fast becoming more common in the property buying process, listing your property for sale online is more important than ever. Online listings can help you get the maximum exposure for a quick sale as it's an easy and accessible way for potential buyers to browse properties.
So, whether you're selling your home or house hunting for a new one, join the millions of others this Easter who are using their extra free time to see what properties are on offer online. Beware though, a quick five-minute glance might turn into an hour or two down the Rightmove rabbit-hole…!