Unusual or quirky houses aren't for everyone, but many buyers might be looking for something a little different for what's probably going to be the most expensive thing they'll buy in their lifetime.
Luckily, the UK boasts plenty of unique properties and if you're the owner of one of them, we have some great tips for when you want to put your property on the market: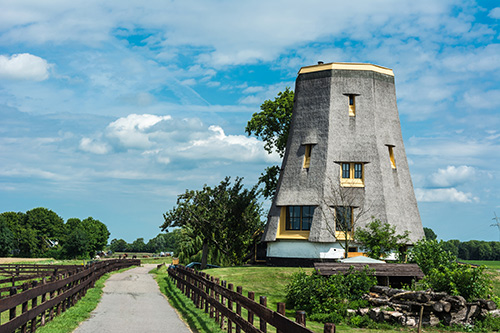 Set a Realistic Asking Price
Selling an unconventional property might mean that it's difficult to set an asking price. There probably aren't any similar properties to compare it to and it could be the first time the property has been on sale for a number of years.
There are some things you should consider when you're setting an asking price for your unique property:
Who does it appeal to? This could help you decide on the affordability – is it suitable for families, with room to expand? Or is the décor contemporary enough for urban couples?
How scarce is it? Are the original features of the house still recognisable or has it been renovated so that it looks like any other modern home inside?
Unique features – something different like a pony paddock or historical significance might win over a potential buyer.
Competition – what else could they buy for the same money? How does it compare to your own property?
It's important not to undersell yourself as you're selling a part of history! However, you should be aware of what can be purchased for the same asking price as your property.
Remember to Practice Patience
Like we said, unconventional spaces aren't for everyone, so it might take you a little bit longer to find a buyer. However, the sale of your unique property is likely to offer a much more emotional response in a potential buyer – they might fall in love with its unusual features and have genuine passion for the property.
That's why it might take a bit of patience. There's a buyer out there who'll fall in love with the charm of your unique property and are willing to pay more for something that isn't your run-of-the-mill new build. However, on the other hand, your unique property might attract extra publicity or more interest if it's seen as an icon in the local community, helping it sell quicker!
Take this converted rail station house in Cumbria, for example. It's tastefully decorated for a family home, but still retains many original features, like the stunning 1851 working Station Clock. This property is completely unique, and the buyer has a part of the local history – how many other houses could you say the same for?
The Marketing Considerations
When selling an unusual property, you'll be relying on the creative thinking and the dedication of the agents listing the property. Don't feel like you'll have to use a specialist estate agent, either. We online estate agents love a challenge and something different with extraordinary appeal lets us stretch our creative legs and expand our market reach.
A critical part of selling your unconventional house is the quality of your photos. When you use an online estate agent like Hatched, you'll benefit from a professional photographer who has all the best equipment and expertise to get the right camera angles and capture your house at its best. Video tours of the house can give potential buyers a good insight into your unique property before arranging a viewing too. Perhaps someone who is just browsing will fall in love with it and make the decision to move!
To give yourself an extra edge, consider getting some aerial photography – this is a great way to get a full sense of the unique quality of your home, especially if it covers a big area!
If you have an unconventional or unusual property to sell, let us help! As you probably won't have similar properties to compare it to, this handy guide covers everything you need to know about pricing and marketing your unique home. With a bit of patience, you could be selling your quirky home to a buyer who's truly passionate about the property!