Any good online estate agent knows that a well-maintained garden is a key selling point for a property and it's something that many buyers look out for.
Having a garden that has been taken care of can make your home much more inviting and colourful, as well as giving you a gorgeous spot to sit in the summer. So, with the warmer months on their way (finally!), we thought we'd give budding green-fingered homeowners some tips on how to get their garden ready to grow: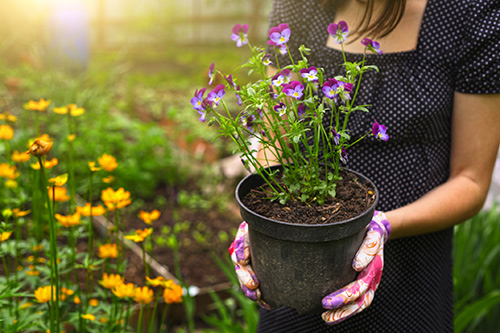 Do Your Garden Spring Clean Early
Your garden has been exposed to all the harshest elements in the winter months, so the first thing to do is to clear the debris ready for the new spring bulbs and plants.
Remove and compost any dead plants from the winter as they're not going to grow back in the summer. It may seem like a chore, but it's the best way to reduce the chances of damaging your new growing plants and give them the best chance to thrive.
Start Your Pruning
Cut plants back before the old growth gets tangled up with the new. Also, do the same for your trees – trim the broken or dead branches and prune and shape the tree so that it is ready to grow in the warmer months. Prune perennials down to ground level and remove the winter mulch, they've done their job protecting against the cold weather now.
Make sure you cut back ornamental grasses and tattered foliage as it'll encourage new growth in the spring. For trees and shrubs that bloom in the spring, like dogwood, weeping landscape trees and hawthorns, you should try to prune them before they've bloomed.
Get Rid of Those Weeds
Do some proactive weeding rather than letting them grow as the damp soil makes it easier to pull the seedlings out. Remember, don't compost them because they'll come back to haunt you!
Removing weeds is an important control method for a gardener. They rob your soil of important nutrients and water, therefore depriving your plants of what they need. Weeding will ultimately help the flowers, plants and vegetables in your garden thrive in the spring and summer.
Look After Your Soil
Test your soil before you start planting on it. Is it rich, healthy and balanced? If it's a yes, all you have to do is give it a bit of top dressing with compost or an organic fertiliser. For the best growth, your soil should be between pH6 and pH7.5. Use this guide if you need to adjust the pH levels of the soil in your garden.
Adding a layer of mulch will help you keep a garden full of healthy plants too, as it will conserve water, cool plant roots, feed the soil and smother weeds. The best time to do this is when the soil warms up and dries out, just remember to keep it away from stems and crowns of plants.
Take the Opportunity to Divide Up Your Plants
Spring is the perfect time to start dividing or transplanting. You should try to do this as soon as possible after the plants emerge. This gives them more opportunity to recover from being divided up as they'll be raring to grow in the mild weather.
Stake your plants early, too. The sooner you do it, the easier it is on your plants as they'll grow naturally into the stakes.
Make a Plan and Stick to It!
Planning your garden is important. If you plan properly and mix perennials with annual flowers, you'll be able to keep your garden looking colourful pretty much all year round.
Don't forget to plant according to the height of your plants too so that even the shorter ones can get ample sunshine. There may be certain plants, flowers and vegetables that are better suited to your area or the type of soil you have too, so do some research before you start planting ready for the warmer weather to come.
Then comes the job of maintaining it during the entire season. Once your flowers start to bloom, you can encourage more flowers to grow by de-heading, which is cutting off the drooping or fading flowers from the healthy green stem.
Maybe you want to get your garden looking its best to sell it, or you just want to enjoy a garden full of colourful flowers, plants and veg in time for the warmer months. Either way, you can use this guide to make sure your garden looks blooming lovely – so you can sit and admire it in the coming spring and summer seasons.