Last year, the number of first-time buyers reached its highest level in a decade thanks to help-to-buy programmes and deals for lower deposits and cheap mortgage deals. The Office of National Statistics revealed that the average price for a UK home is currently around £226,760 for a first-time buyer.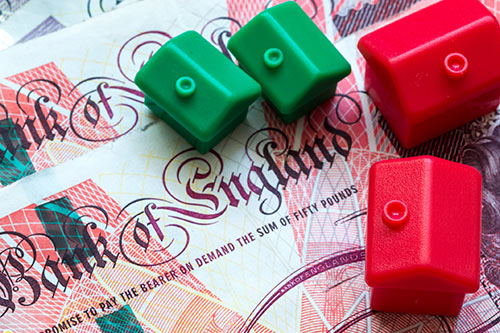 So, here at Hatched, we rounded that figure down and decided to take a look at what type of properties you could afford in the different cities in the UK for £200,000.
London
Let's start with England's capital city to get a market for what we could afford with a £200k deposit and mortgage.
If you were looking to get a property in the Earl's Court or Enfield areas of London, you'd probably be looking at a studio apartment, coming to the top end of your budget. The money doesn't stretch very far in central London, with a parking space coming to the same price if you were looking for a spot in a private car park in Chelsea.
Heading a bit outside of the city centre to the Croydon area (SE25), you could probably afford a one-bedroom flat or maisonette within your budget.
Manchester
If you head to the popular Northern Quarter area in the heart of Manchester, you could find a spacious two-bedroom apartment on sale for around £180k to £200k.
You can get even more for your money when you head a bit further afield; you could afford a three-bedroom semi-detached house in the Withington, Stockport or Stretford areas. These up-and-coming areas are popular with young professionals and have great public transport links so you can get into the city easily – the perfect amenities to consider when making your decision as a first-time buyer!
Leeds
For your £200k budget, you could easily find a two-bedroom flat right in the city centre, with prices usually landing around £140k and £170k.
North Leeds, popular with students and young professionals, could probably find a two or three bedroom flat in Headingley or Chapel Allerton that meets their £200k budget. However, those who want a bit more room might want to look at buying in Pudsey, where the same amount of money could get you a three-bedroom semi-detached house. With strong public transport to get into Leeds city centre, you can probably get more for your money when you head a little bit further afield.
Birmingham
Birmingham is the largest and most populated British city outside of London and the perfect hub between London, Nottingham and Manchester.
To get on the property market in this in-demand city, you can expect prices around £160k for a one-bedroom flat, with prices rising to around £185k around the popular jewellery quarter. Towards the Chinese quarter and Digbeth, you can find a two-bed apartment for around the £200k budget.
If you need a bit more space, the Smethwick and Sparkhill areas offer good value for money, with three-bedroom terraced houses on sale for the £200k budget in those areas.
Edinburgh
The picturesque Scottish capital is perfect for those wanting to get on the property market, with plenty of affordable houses available and incentives and schemes designed to help first-time buyers.
Right in Edinburgh Old Town, you can find a one-bedroom flat for around £160k and two-bedroom flats for between £170-200k. This figure goes down to around £120k when you look in the Sighthill area and you can afford a spacious two-bedroom semi-detached house in Currie.
Now that you know what type of property you can afford in five of the main cities in the UK, you can make an informed decision about where you want to invest as a first-time buyer. With this guide, you can choose where you want to lay your roots in the UK, whilst also getting the most for your money.