As an online estate agent, we don't just sell houses on behalf of our clients. Part of our service is also giving mortgage advice and guidance for first-time buyers getting on the property market.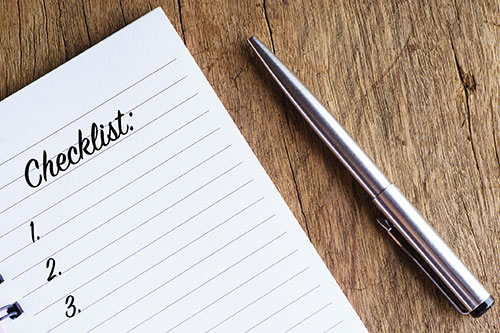 If you're hoping to invest in a property soon but you're not sure where to start, here's three things that you should tick off your to-do list before putting an offer on a house. These tips will help put you in the best position to have a mortgage approved and secure your dream home.
Improve Your Credit Score
This may take some time, so it's best to start thinking about your credit score before you even start saving for your house deposit. It surprises many people that no credit is bad credit, so even if you've never had any debt (like a credit card, a loan or finance), it may not necessarily work in your favour.
You can easily get a credit report and check your score online, with many websites offering this service for free. Some tips for improving your score include:
Get on the electoral roll – lenders will check your name and address to confirm your identity.
Start to build a history – take out smaller forms of credit, like a mobile phone contract, store card or credit card. This will prove to them that you can pay your bills responsibly and on-time each month.
Space out your credit applications – if possible, try not to apply for credit more than once every three months. Applying regularly may suggest that you're over-reliant on credit to supplement your income.
For more information on this, take a look at this detailed guide on how to improve your credit score by Experian.
Saving for a Deposit
The average first-time buyer puts down a 20% deposit on their first house, which could add up to £20,000 or more! That probably sounds daunting, especially if your yearly salary doesn't even cover that.
However, you can start making small steps to start saving your deposit. All you need to do is make a plan! Figure out how much you can realistically save each month and put it in a savings account that you can't access.
Also, cut down on the luxuries you spend your money on. That morning coffee from Starbucks or the lunchtime sandwich everyday might not seem like much but it all adds up! In fact, something simple like making your own coffees could save you around £580 a year!
Find Out What You Can Afford
How much a bank is willing to lend you depends on your personal circumstances and your loan-to-income ratio. This is likely to be between three and five times your annual income so, if you earn £50,000 for example, your mortgage is likely to be up to £250,000.
Use an online mortgage calculator to see how much you can borrow and as a result, what you can afford when buying a property.
When you've found the house that you want to make an offer on, you'll need a 'Mortgage in Principle', sometimes known as an 'Agreement in Principle' (AIP). This is a written estimate from your lender that clearly states what you might be able to borrow. You can usually get one within 24 hours and it's valid for up to 90 days.
For first-time buyers hoping to get on the property market, follow our checklist of what you should do before you decide to put an offer on a house. Even if buying a house isn't in your plan just yet, it may be worth thinking about now, so you can work on your credit score and save up for your deposit.
With our first-time buyer guide, you can make sure you've done everything right so that you don't miss out on your dream home.