Like Dorothy says, there's no place like home. It's understandable then that when you decide to move somewhere new, it can often take a while to settle in.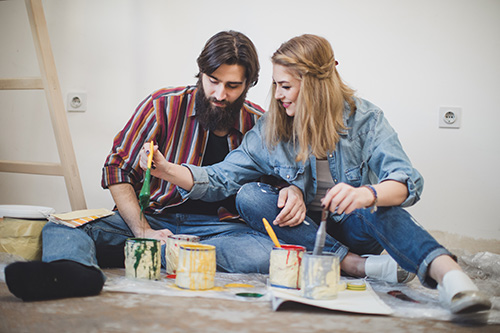 As one of the leading online estate agents in the UK, you can trust our expertise – so, here's a few words of advice about some of the things you should consider when decorating your new house and making it into a home.
Keep an Open Mind
First of all, try not to veto any properties because they're not the 'finished product' straight away. We always stress to potential buyers that they should keep an open mind when viewing a property for the first time. It's easy for people to see a layout of a house and decide it's not to their tastes, but most of the time it's just the aesthetic – these things can be changed once you've moved in.
Plus, if you're willing to do some building work, you can always reconfigure the bathroom, repurpose rooms, design the perfect garden and even add a conservatory, ultimately transforming a property that may not have appealed to you at first glance.
In short, what we're trying to say is that the form of the house matters much less than what goes inside it to make it a home.
De-clutter Your Life
You can use moving to a new house as an opportunity to de-clutter and get rid of the belongings you don't want or need. As much as a plain and empty house won't feel like home, one that is filled with too much stuff is equally as uninviting.
When packing, keep to the rule that if you find anything in your wardrobe, cupboards or drawers that you haven't worn or used for two years, then it's probably time to say goodbye to it. Doing a spring clean before you move will make your new home feel much more comfortable and you're sure to feel more house proud without all the clutter around.
Tell a Story
Making a home isn't just about creating a space that's functional to live in – it should be warm and inviting, as well as expressing your life and interests.
If your house tells a story, you'll always feel like you're at home. Adding touches that make you feel relaxed or happy can really make a difference in a new place. Adding plenty of sentimental family photos and lovely memories, for example, can bring a bit of the past into your home. As explained by interior design expert, Bobby Berk, "People that are happy in their homes, it spills out to the rest of their lives".
Experiment with Colour
When you buy a property, it can often be a blank slate or decorated to the previous owner's taste. Painting the walls is a cheap and easy way for you to inject your own personality into the room and make it feel like your own.
Whether you want to have a bright statement wall, or you're going for neutral walls with bright accents within the accessories and furnishings, the colours you choose can completely transform a room. Plus, when you've added your own stamp in this way, you can admire your handiwork and your house will begin to feel more like a home.
You Don't Have to Spend a Fortune
Making your house a home doesn't necessarily mean that you have to spend thousands of pounds on decorating. Embrace the small details like customising small parts of your furniture, adding picture frames and wallpaper that expresses your personality.
Furnishings make a big difference too. For example, adding some plush rugs to bare floors can help your home feel more comfortable and cosier, as well as stopping your room from feeling sparse or unfurnished. Adding some pillows or throws to your chairs and sofas can do the same, making your home feel like your own. New light fixtures could give your room a whole new ambience. A signature scent, using candles and reed diffusers, can help you relax too.
Do Some DIY
If you're buying second-hand furniture that doesn't quite feel like your own yet, adding your own personal touch to them can give the piece a whole new lease of life. Painting furniture to match the colour scheme of your room can instantly update the piece, plus you'll be proud of your handiwork every time you see it.
Not only does repurposing and updating old furniture look great, it's also thrifty, allowing you to save a bit of money on furnishing your home.
Also, you could create a gallery wall of your favourite photographs and memories. It's a simple way for you to put your own stamp on your living room or hallway, giving it a personal touch as well as making it look homely and stylish.
Instead of looking for the perfect home during your search for a new house to buy, you should try to see the potential of the ones you've viewed. Try to envisage how the rooms will look like after you've added your own personal touches, like upcycled furniture, family photos and a beautiful colour scheme. With a bit of creativity and lots of love, your new house can start to feel like a home.