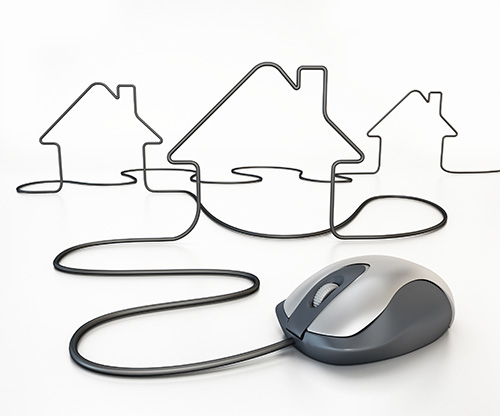 In March 2018, property website Rightmove had the busiest month in its history with 142 million visits (that's more than 3,000 visits a minute)
Almost at the same time, Zoopla declared 2017 to be its busiest year on record, with 648 million visits in one year (that's 54 million visits a month).
The speed and convenience of property websites like Rightmove and Zoopla have completely transformed house-hunting – and it's changed the game for house sellers too.
In fact, online property websites are so popular that 90% of house hunters now start their search online. So if you're thinking of selling your house, isn't it time you considered selling online?
Online estate agents like Hatched can save you thousands of pounds in commission fees, so if you want to find out more, take a look at our packages or read on.
A beginner's guide to selling your house online.
If you're thinking of selling your house with an online estate agent but you don't know very much about them, then this blog is for you!
Here we'll explain how online estate agents differ from those on the high street, how the process works, and most importantly, what to look out for when choosing an online estate agent.
What's the difference between online and high street estate agents?
There are several key differences between online estate agents and their high street counterparts. Firstly, online agents don't operate from branches scattered throughout the country. This helps them keep their costs (and their prices) low.
The estate agents themselves work and live in their local "patch" and they will visit your home to conduct face-to-face valuations and discuss the best ways to market your property.
Reducing operating costs in this way is how online estate agents can offer such low rates to sell your home. Instead of charging you 1.5-2% commission on the value of your house (which amounts to thousands of pounds) they charge one much lower upfront fee or a 'no sale, no fee' option.
In terms of advertising and promoting your property, online agents advertise to millions of people every day through the main property websites like Rightmove, Zoopla, and PrimeLocation.
One other key difference is how viewings are handled. Most online estate agents typically leave it to the customer to show interested buyers around their house, rather than sending an estate agent to conduct the viewings.
This can work for some customers but not all; it depends on how busy you are. To cover all bases, some online agents offer to do the viewings themselves for an additional fee.
So for the customer, selling your home with an online estate agent is similar to selling with a traditional high street agent. The only snag is that online agents all offer slightly different packages, so it's up to you to make sure you're getting everything you need.
What to look out for when choosing an online estate agent.
At Hatched, both our Standard and Enhanced packages contain everything you need to sell your home:
A valuation with a local Hatched estate agent.
We visit your home, discuss your plans and value your house.
We create professional floor plans and photograph your property.
(We can book a professional photographer instead if you prefer.)
We put up a 'For Sale' sign so local buyers can see it's on the market.
We advertise your house on Rightmove, Zoopla, and PrimeLocation.
(We offer smart, targeted social media advertising too.)
We vet all applicants and book your viewings.
(We can even conduct the viewings if you prefer.)
We can arrange and handle open house events for you.
We provide feedback after each viewing.
We progress your sale and negotiate offers.
You make the final decision on which offer to accept.
Our packages are designed to provide you with everything you need to sell your house. If you choose a different online estate agent, you won't get all this, so it's up to you to check important things like:
1. Do they value your home for you?
2. Do they provide a professional floor plan?
3. Do they provide photographs of your property?
4. Do they conduct viewings? Do you need them to?
5. Do they provide a 'For Sale' sign?
6. Do they vet applicants to ensure they are serious buyers?
7. Do they book your viewings for you?
All these elements are vitally important to the successful sale of your house, yet not every online estate agent offers all of these services… except for Hatched of course!
If you'd like to take advantage of the huge savings offered by an online estate agent but you still want to receive the service you'd expect from a traditional estate agent, call Hatched on 0333 999 7699 or book a free valuation today. You might well save yourself thousands of pounds in the process.
* Please see Rightmove House Price Index: April 2018 National Edition
** Please see FT article
*** Please see: Zoopla press release