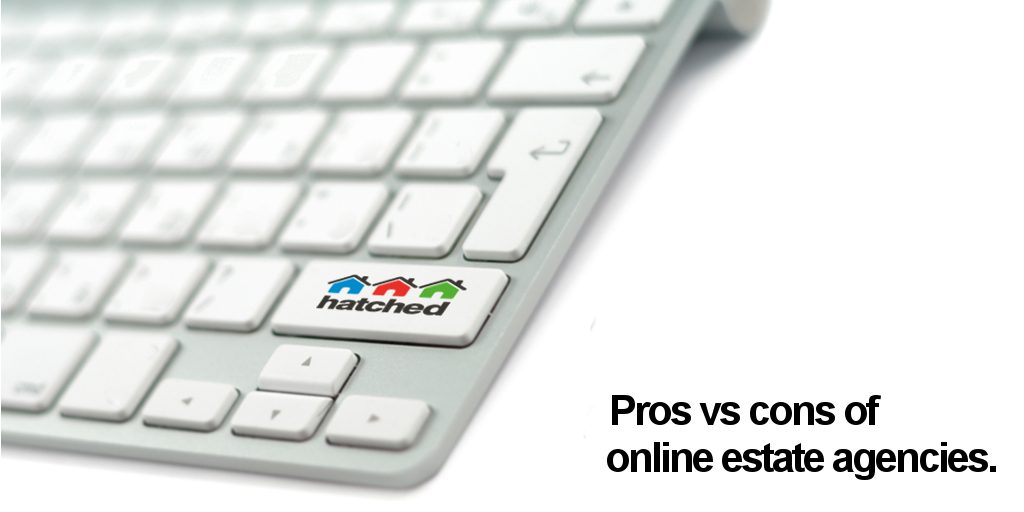 The internet has completely changed the property industry. Even in the last decade,
the way we search for and buy property is unrecognisable from the past.
Property portals such as Rightmove and Zoopla let house-hunters search for
and enquire about homes 24/7. More often than not, it's done on their phones
or tablets, too.
On top of that, the second wave of advancement further revolutionised the way we sell homes, too. The rise of online estate agents.
But what are the benefits of using an online estate agency over the traditional high street ones? And what – if any – are the downsides?

Pros.

It's cheaper.
The obvious difference between online and high street estate agents is usually the price.
Online agencies usually charge a flat fee, whereas, on the high street, estate agents often get paid via a commission on the final sale price. This can be anywhere up to 3%.
Doesn't sound much, does it? But on a house sale of hundreds of thousands of pounds, that's a lot of money! Let's take a conservative example:
Say you're selling an average property. So average, in fact, it's on the market for the UK Land Registry's average property price of £225,000. And say your high street estate agent is charging a pretty standard 1.5% commission.
How does a final bill of £3,375 plus VAT sound? Because with an online estate agent's fixed fee, your final bill would be a lot less.
In fact, Hatched's all-bells-and-whistles Enhanced plan would cost considerably less at just £895. That's pretty hard to argue with, wouldn't you agree?

You're in control.
An answer that frustrates both sellers and buyers alike during property viewings is an estate agent saying, "I'll have to check with the owner."
With most online agents, you're there and in charge during viewings. Potential buyers can speak to you directly. If they have any questions about your home or the surrounding area, the most informed and experienced person is right there in the room – you.
Plus, if you're handling the viewings it means you don't have to give anyone else a copy of your house keys.

More convenient opening hours.
Ever tried juggling a property sale, purchase – or even sort out somewhere to rent – with a full-time job? When you use a high street agency that closes at 5pm and doesn't do weekends it's an absolute nightmare!
But the internet never closes. With online estate agents, you can manage your sale pretty much 24/7 thanks to online portals and accounts. At Hatched, you can manage your listing whenever you like through your account on our website. You can also get help through web chat. Plus, if you do need to talk to one of the team, our customer service department is open seven days a week, and late on weeknights.

It's more flexible.
With an online estate agent, you have more control over how you market your property.
Choose the basic package, then buy extra services such as pro photography, virtual tours, featured listings or further digital advertising as and when you need them.
…Or, for an even easier option, get the Hatched Enhanced plan which has all those things plus more, for a fantastic price of £895.
In fact, even our Standard £495 plan has features many other online agencies would charge extra for, such as floor plans and premium listings on Rightmove and Zoopla.
We can also handle things like EPCs, open houses and accompanied viewings, too.
Cons.

You're in charge of viewings.
Although being there to handle the viewings yourself can be very useful for all parties, it can get tricky when you're not prepared for tough questions about the property and sale. Especially when there's no professional there to step in.

Most online estate agents leave the viewings for the seller to handle, but Hatched can offer accompanied viewings for a small fee. We can even set up open house events, which have proven to be very successful for our homes recently.


There's no shop window.
Another slight downside to using an online estate agent instead of a traditional high street branch is that there's no branch window to put your property listing in.
The good news though… it's 2018! Welcome to a world where nine out of ten people looking for a home begin their search online.
Rightmove, Zoopla, and other property websites are the modern shop window, where thousands of local house-hunters can see your listing every day.
Plus, all Hatched listings on Rightmove, Zoopla, and PrimeLocation get upgraded to Premium listings as standard. That means they'll stand out more in house-hunters' search results. Want even more prominence? You can literally put your property at the top of the list with Featured Property listings on our Enhanced plan. Your advert will be even more eye-catching and be the first one buyers see.
Should you sell your property with an online estate agency?
Our answer's not going to be a big surprise. We think the positives of selling through an online estate agent massively outweigh the negatives. In fact, we struggled to come up with many negatives about the online estate agency market that weren't things Hatched already had a solution for!
Ultimately, we're here to help our customers sell properties. And we do that very well with the added bonus of convenience, speed, and ease-of-use. And, if you factor in the potential thousands of pounds you can save in commission – it's an easy decision.
Want to sell your house smarter? Try us out with a free, no obligation valuation from your local Hatched estate agent now.