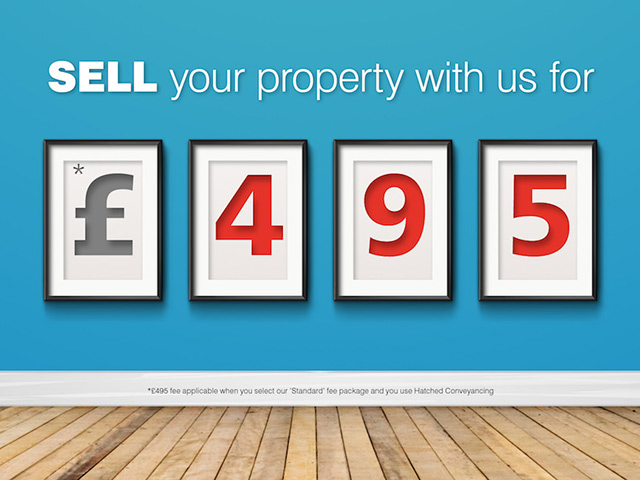 You can now sell your house for less than £5001 with Hatched. This is half the price of some of our competitors' packages and much cheaper than high street commission fees. So what do you get for your money?
Fixed fee, no commission.
Before we get into the nitty-gritty, let's first see how our Standard package compares with the kind of fees you're likely to pay if you choose a conventional high street estate agent.
The rate of commission varies from agent to agent, but right now the average
is between 1% and 1.5%.2 Let's split the difference and assume your agent is charging you 1.25% of the value of your home.
The average house price in the UK in January 2018 was £225,621.3 So the average commission fee (1.25%) works out at £2,820. That's why our £495 package is such a game changer: your average seller today would save themselves £2,325!
What's included.
Now we've established the average saving you can make with Hatched, let's take a look at what you actually get for your money to show how our Standard package delivers on service.
Home valuation with a local estate agent.
Hatched combines the traditional services offered by high street estate agents with the convenience and affordability of online estate agents.
We have a network of experienced local estate agents throughout the country performing face-to-face house valuations for all our sellers.
When your local estate agent visits your home for the valuation, they will also spend some time discussing your options and offer advice on how to get your house ready for viewings.
Photographs and professional floor plan.
While they're there, your Hatched estate agent will photograph your property's interior and exterior and measure up each room so they can prepare a professional floor plan.
They will also write a detailed description of your property for your online adverts. Altogether, this gives you everything you need to advertise your property online.
For Sale sign.
One tried-and-tested way of stimulating local interest in your property is to put up a For Sale sign outside your property so house-hunters in your area are aware it's on the market.
We'll put up a For Sale sign for you just like a high street agent would, then we'll return once your house is sold to remove it.
Your property advertised on major property websites.
Your home will be advertised on Zoopla, Rightmove and PrimeLocation, three of the UK's most important property websites. Altogether, these three sites receive around 180 million visitors every month.4
As soon as we have everything in place we will set your property live on all of these property websites, as well as the Hatched website.
Premium Listing adverts.
Unlike other online estate agents, Hatched give all our customers free 'Premium Listing' advertisements on Zoopla, Rightmove and PrimeLocation.
These adverts are a step up from standard adverts:5 they're larger, they're highlighted and they allow sellers to display more photographs to help it stand out from the crowd.
Rightmove say 'Premium Listing' ads receive 35% more visitors than their standard adverts; whereas Zoopla say their premium ads get at least twice as many clicks.6
My Account.
My Account is your way of staying in full control of your property listing. Once your property goes live you can login to your Hatched My Account and make changes to your online adverts 24/7.
Vetting, viewings and feedback.
We have a central team of experienced property negotiators to handle all enquiries about your house and book viewings seven days a week.
We vet every enquiry before we book a viewing so you will know what position the buyer is in before they step foot in your home.
You can check viewings online in My Account and we'll either text or call you (whichever you prefer) to let you know a new viewing has been booked in.
One key difference from a high street estate agent is that as the homeowner, you will show prospective buyers around your house. We believe nobody knows your property better than you! If you're too busy, don't forget we can always handle viewing for you as an add-on service.
After each viewing, our central team will call your potential buyers back to get as much feedback from them as we can so you can gauge how interested they are in your house.
Offer negotiation.
All offers made on your property are handled by our experienced central support team. When an offer is received, your dedicated negotiator will work closely with you to secure a sale price you're happy with.
Sales progression, guidance and advice.
Once a price is agreed, getting the sale through to completion is often half the battle. We have experienced sales progressors to chase things up with your buyer's estate agents, solicitors and the buyers themselves.
They'll advise you through any tricky situations and help complete your sale with as little stress and fuss as possible.
Would you like to save more than £2,000?
That's everything you get with our Standard £495 package. An experienced local estate agent, your valuation, photos, floor plan, For Sale sign, online advertising, viewing bookings, vetting, feedback, offer negotiation and sales progression. It's an unbeatable package.
If you want to get more from an estate agent but pay less, take your first step into the world of online estate agents… simply call the friendly Hatched team on 0333 999 7699 or visit us online at www.hatched.co.uk for your free no obligation valuation now.
£495 fee applies when you select our 'Standard' fee package and you use Hatched Conveyancing.
Please see: https://www.estateagenttoday.co.uk/breaking-news/2018/5/exclusive-uk-estate-agent-fees-are-the-cheapest-in-the-world?source=trending.
Please see: https://www.gov.uk/government/news/uk-house-price-index-for-january-2018.
Please see: https://plc.rightmove.co.uk/~/media/Files/R/Rightmove/house-price-index/rightmove-house-price-index-16th-april-2018-final.pdf and: https://ftalphaville.ft.com/2018/01/30/2198203/ft-opening-quote-zooplas-right-moves-on-the-home-market/.
Rightmove statistics, please see: https://www.rightmove.co.uk/rmp/pdf/marketing/may2011/leaflets/sales/Vendor_PremiumListing_A5_leaflet_RM_05.13.pdf.
Zoopla trials, please see: https://www.zoopla.co.uk/press/releases/zoopla-launches-premium-listings-for-estate-agents-and-developers/