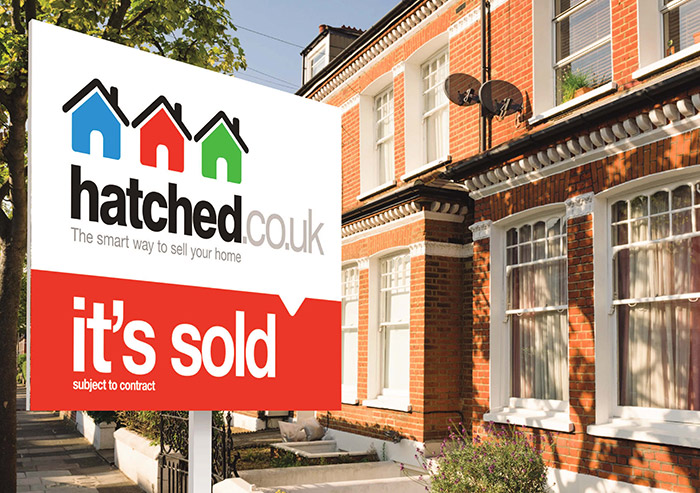 Get more marketing for your money with Hatched.
If you think all online estate agents advertise homes the same way, think again. Hatched packages deliver more advertising for your money than you'd ever expect from
an online estate agent. Here's how we do it…
In a recent survey, 90% of house-hunters said they started their search for a new home online by looking through property websites like Zoopla and Rightmove.1

These websites have become the world's shop window for property; advertising online is now one of the best ways to get your home seen by the largest number of buyers.
However, it's crucial that you make the most of these property websites if
you want your home to stand out from the crowd…
Zoopla, Rightmove and PrimeLocation.
When you sell your house with Hatched we advertise your home on three of
the UK's biggest property websites: Zoopla, Rightmove and PrimeLocation.
We also advertise it on the Hatched website too.
If you're selling your home with us, you'll want to know how many people are visiting these websites every month so you know how many people your advert is likely to reach.
Zoopla announced that 2017 was its busiest year on record, with 648 million visits in total (which works out at a staggering 54 million visits every month).2
In March this year, Rightmove reported its busiest month in the company's history, with 142 million visits in one month (that's more than 3,000 visits a minute). 3
PrimeLocation receives around five million visitors every month and advertises properties from over 16,000 estate agents.4
Altogether, Zoopla, Rightmove and PrimeLocation reach around 200 million people every month. Now that's a very busy shop window, and it means if you choose Hatched you know you're advertising in the right place right from the start.
Premium Listings as standard with Hatched.
We know that these property websites receive large numbers of visitors, but how can you make the most of them so your home stands out from all the rest?
Unlike other online estate agents, Hatched give every single one of our customers 'Premium Listing' advertisements on Zoopla, Rightmove and PrimeLocation as standard, regardless of which package you choose.
Premium Listings are like upgraded adverts: they're larger, more prominent, with highlighted frames that separate them from the surrounding adverts. They also let you display three photographs rather than one to showcase your home's best features.

Rightmove say Premium Listings receive 35% more visitors than their standard adverts;5 whereas Zoopla say their premium ads get at least twice as many clicks.6
There's no denying the effectiveness of these 'super adverts', yet most online estate agents only offer them as an upgrade for an extra £75-£100. With Hatched, they're included in both our packages.
Featured Property upgrade with Hatched.
Like our competitors, we also offer a range of additional marketing activities that you can add to your main package to generate more interest in your sale.
If you want to really go to town with your online advertisement, you can also make it a 'Featured Property' for a week on Rightmove and Zoopla.
With Featured Properties, your home will receive an extra advert positioned at the very top of every search page in a prominent position on the site. It's likely to be the first thing buyers see.
Your property will still appear in the list as normal, but since it also appear on every search results page too, it gives you twice the visibility as standard adverts.
Social Media and Digital Marketing Pack add-on from Hatched.
Another example of why Hatched really is the smart way to sell your home is our Social Media and Digital Marketing Pack.
This clever add-on promotes your house on social media by targeting house-hunters who are looking for properties in your area for your price.
It includes a custom Facebook advert that specifically targets buyers interested in a property like yours.
Advertising directly to people who are looking for a property like yours – and through social media platforms they're constantly connected to – is pure genius marketing.
360° virtual tours.
With Hatched, you can even give potential buyers a unique 360° virtual tour of your house, something you can add to your listing along with the photos and floor plan.
A virtual tour lets you really introduce your house to online buyers in the best way possible online: providing a photographic tour from the front door to the master bedroom and giving your house a much greater impact with prospective buyers.
Hatched: more marketing for your money.
Most online estate agents advertise your home on the big property websites like Zoopla, Rightmove and PrimeLocation, but that's where they stop. With Hatched, that's just the start.
Not only does Hatched provide all our customers with Premium Listing adverts as standard, we also offer a range of cutting-edge extras and add-ons so you can tailor your marketing to suit you.
If you want to get more from an online estate agent, make the smart move and call the friendly Hatched team on 0333 999 7699 or visit us online at www.hatched.co.uk for your free no obligation valuation now.
[1] NAR 2012 Profile of Home Buyers and Sellers
[2] Please see FT article: https://ftalphaville.ft.com/2018/01/30/2198203/ft-opening-quote-zooplas-right-moves-on-the-home-market/
[3] Please see Rightmove House Price Index: April 2018 National Edition: http://plc.rightmove.co.uk/~/media/Files/R/Rightmove/house-price-index/rightmove-house-price-index-16th-april-2018-final.pdf
[4] Please see: https://www.primelocation.com/about/
[5] Rightmove statistics, please see: https://www.rightmove.co.uk/rmp/pdf/marketing/may2011/leaflets/sales/Vendor_PremiumListing_A5_leaflet_RM_05.13.pdf.
[6] Zoopla trials, please see: https://www.zoopla.co.uk/press/releases/zoopla-launches-premium-listings-for-estate-agents-and-developers/