What's more important to you when you're buying a house: friendly neighbours or period features? Good schools or a nice garden? Lovely bathtub or a clear phone signal?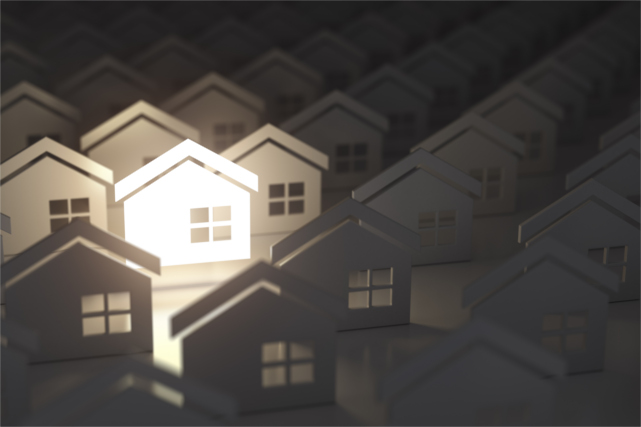 The answer, of course, is that they're all important! But if you had to choose between them, what would be the top ten features you look for in a house? And what's your number one?
We take a look at a recent survey by GoCompare Insurance1 that asked 2,000 British house buyers what their most essential property must-haves are. Here's their top ten…
10: A good energy efficiency rating
With rising energy prices hitting the headlines it's no surprise that today's modern house hunter is keenly aware of energy efficiency: it's number ten on the list.
Thankfully, every home on the market now has an Energy Performance Certificate (or EPC) which gives an energy efficiency rating from A (most efficient) to G (least efficient).
It shows you how energy efficient different parts of the house are and gives you estimated energy costs so you can compare different houses. It even provides you with recommendations on how to reduce energy use and save money in the future.
9. A reliable, clear mobile phone signal
Whipping your phone out to see how many bars you have in each room is a great idea, especially if you're checking for poor signal inside and outside the property.

However, while mobile phone signal is a big deal for renters, it shouldn't be the deciding factor when you're buying. The strength of your signal depends on the network you're using; switch networks and everything changes, so it might not be the best way to judge a house.
8. A driveway or dedicated parking space
Now this is more like it. Number eight on our list is a driveway or a dedicated parking space. Not only is it practical and useful, it adds about 5-10%2 to the value of your property.
Also, the average household now owns 1.6 cars3 , so one space is unlikely to be enough, especially for families with children. Remember: if you're looking for parking spaces before you buy, when it's time for you to sell, your buyers will be looking for the same thing.

7. Local shops and amenities
In at number seven in the top ten are the local shops and amenities found in the surrounding area. This can range from local supermarkets to community services.
Whether it's for bread and milk, a post office or a local GP, the proximity of local shops and amenities can make a big difference to how handy and convenient an area can be.
6. Plenty of electrical sockets
Most of us do look for electrical sockets when we view a house, either to check the quality of the fittings or to see if we can arrange our furniture a specific way.

Again, this can be important when you're renting, but not so much if you're buying – after all, it only takes 2-3 hours work (around £150) for an electrician to add another double plug wherever you want it…
5. A good, reliable broadband connection sufficiently strong to stream films and TV
A study involving 3,000 would-be buyers by website Rightmove shows that they avoid properties with sluggish broadband: a good, reliable Internet connection is therefore one of the top five features of any house.
However, the speed of a connection is affected by many factors, including the router, wiring and Internet provider, and these can all be changed fairly easily. If you absolutely must have high speed fibre or cable you'll need to check the house is connected as early as possible.
4. A garden
Whether it's relaxing with a bit of gardening, letting your kids run free or entertaining your friends with a barbeque, a garden is the number four most important feature of a house.
These days a dog-proofed garden – and one that's also safe for children – will appeal to families, and there's increasing demand for low-maintenance gardens or those with a seating area or patio.
3. Secure doors and windows
As we count down our top ten features when buying a house, in at number three it's security! Everyone needs a safe house to come home to at night, so buyers look closely at doors and windows – especially on the ground floor – to make sure they're secure.
2. Double-glazing
A huge 80% of the 2,000 people quizzed said that the number two most important must-have feature of a house is double-glazing on all windows and doors.
Paying gas and electricity bills is one of the biggest worries for homeowners in the UK, so it's unsurprising that having a home that is well insulated and affordable to heat is important.
If you currently have single glazing, upgrading your property can be a big selling point to potential buyers. Not only does it improve the energy efficiency of the building, but it can also improve the look of your home to buyers too.
1. Central heating
And top of the charts in our must-have list of features that UK buyers are looking for, it's that old favourite: central heating!
If we lived on the continent, we might be talking about air conditioning hitting the top spot, but in chilly, rainy and windy Blighty I'm afraid keeping out the cold with a good central heating system is still the number one feature that buyers looks for in a home.
So if you're selling your house and you'd like to know what you should be highlighting to prospective buyers – or how to improve your property – get in touch with the friendly folks at Hatched.
Whatever you need we're here to help. Simply call 0333 999 7699 and book your free house valuation now.
1 Please see: http://www.dailymail.co.uk/property/article-5683019/Top-20-features-sell-home.html.
2 Please see: https://www.auralandscapes.co.uk/what-can-a-driveway-add-to-your-home/.
3 Please see: https://www.express.co.uk/life-style/cars/782992/car-costs-uk-service-repair-MOT-petrol-fuel-price.