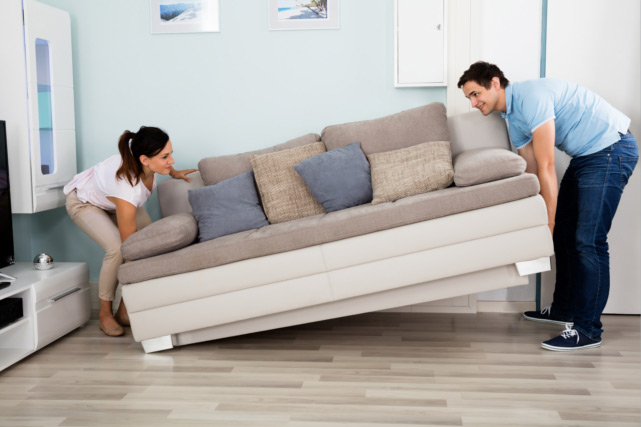 Ten opportunities to spend less when moving house on a budget.
Whether you're selling a house or buying one, Hatched
helps you save money throughout the process with low,
fixed fees. But after you've exchanged contracts, here are some things you can do to save more of your money on moving day.

1. Budget.
By the time you're ready to move you might be a bit cash-strapped after the
cost of the exchange – unless of course, you saved with Hatched! So the first thing to do when working out how to save on moving costs is to work out a
plan of how much you expect to spend and how much you can afford.
Start by making a list of everything you need to organise, rent or buy and then you can start comparing the costs between suppliers to find the best deal.

We'll cover a lot of moving costs here, but don't forget that it's almost guaranteed that there'll be extra costs you're not expecting.

2. Declutter.
The more things you have to move to the new house, the more it costs to move. If you have to do multiple trips you'll need to hire a van for longer or pay a removals company extra. And considering most people move house to have more room, why fill it with all the same clutter?
Go through all your things and try and get rid of as much as possible. If it's not being used now, will it be used in the new house either? Be ruthless!
You can donate a lot of clothes and possessions to charity shops or you could even sell them on sites like eBay, Gumtree and Facebook to help offset the cost of moving, or try a car boot sale
Bulkier things like furniture and appliances can be advertised on sites like Gumtree, Freegle and Freecycle for someone local to take them off your hands. Certain local charities also welcome furniture, too.

3. Sort the utilities and bills early.
When you move house, chances are you'll spend a few days or weeks without an internet connection or landline, so it makes sense to start the process of switching bills to the new address early.
Let your gas and electricity providers know the date you're moving and then send final meter readings on the day you move. Start shopping around for the best deals on utilities before you move so that you're ready to switch as soon as you're in without clocking up bills on the current tariffs. The same goes for your internet and phone line provider – the less time without Netflix, the better!
Council tax will get backdated to your moving date so it's best to get that switched over sooner rather than later, too.
When it comes to other bills and correspondence you can tell Royal Mail to forward your post to the new address, but it costs over £30 for each person. A much cheaper way of making sure you get mail is to update your contact details with everyone you can think of, and leave a few large envelopes and stamps at your old address with a friendly note for the new owners to forward anything you've missed for the first few months. If you're not moving too far, you could also leave your phone number and pick up your mail directly.
You'll need to tell TV Licencing that you're moving and to switch the address or buy a new licence. It's an easy thing for you to forget, but they won't!
Though they don't cost anything, remember to update the address on your driving licence and vehicle logbook

4. Removals service or van hire?
If you want less hassle and a simple move, hiring a professional removals company to help you move is the way to go. They'll take your possessions from one property and put them in the other, and usually offer extra services like dismantling and reassembling your furniture. That kind of service isn't cheap though, and depending on things like distance, duration and how much you're moving, it can cost anything from a few hundred to well over a thousand pounds.
If you don't mind doing the work yourself, the cheaper option is hiring a van. But it's all about being smart, flexible and organised when it comes to hiring a van for as little money as possible.
Much like hotels and flights – the later you leave it to book a van hire, the more expensive it can be. Plus if you book early, it's more likely the hire company will have the right size van available. Try to book at least a fortnight in advance.
Take the time to weigh up the extra cost of renting a larger van over the cost of multiple trips, petrol and how long you'll have it for. It might be cheaper in the long run to pay for something with a bigger capacity and a tail lift than a smaller Transit which can't hold as much and is harder to load with bulky items.
Whether you choose a van hire or a removals company did you know it can be cheaper to move during the week than at the weekend? Both options often have weekday rates and weekend rates – everyone wants to move on a Saturday, so if you can take a day off to do it in the week, you can potentially save a bit more.
Don't forget to check if they offer any discounts you may be eligible for, such as special rated for students, armed forces, NHS or emergency service workers.

5. Get help.
If you're not hiring a removals company to do all the heavy lifting, a much more inexpensive way to move house is to rope in friends and family to help you move. You could have people at both properties loading and unloading to help get the move done and the van returned quicker. If you have children, you might just want to ask someone to mind them while you get the move done.

6. Moving boxes.
Most shops recycle their own packaging straight away, so gone are the days when you could go to the nearest supermarket and get lots of cardboard boxes for free. Chances are your removals or van hire company sells them, but moving boxes can be found cheaper if you shop around.
Places like Argos, Wilko and of course Amazon all sell home moving packs, but don't forget to check online communities and your friends and family for people who have also moved recently and have boxes to give away or sell.

7. Be organised.
One of the most effective things you can do to keep the cost of moving down is to be prepared and have everything ready when the removals company knocks or you collect the van from the hire company.
If you're using a removals company remember they're on the clock, so have everything ready for them. The same goes for van hire – an empty van parked up while you're still packing boxes on the morning of the move is just wasted money.
Try to have everything packed, and appliances disconnected and ready to go by the evening before the big move. It's easier on your stress levels, it's easier on the patience of people you've persuaded to help, and therefore there's less chance of things going wrong.

8. Moving out of a rented property? Make sure to get your deposit back!
If you've been renting your current property don't forget your obligations to the landlord before moving. If you want to see any of your deposit again (which will definitely come in handy covering moving costs) make sure to leave the property in as good a condition as you found it, allowing for reasonable wear and tear
The most common problem points are walls and carpets, so a little expense patching and painting over holes and having the carpets professionally cleaned can be worth it to get the deposit back.
It's always a good idea to ask the landlord for leftover paint when you first move in to a rented property for this very reason – you might think all white emulsion paint is the same, but if you have to buy your own you might have to paint the entire wall to match.

9. Get your groceries delivered when you get there.
Moving day is almost guaranteed to be more stressful and time consuming than you expect, and you'll more than likely not have time to go food shopping for the first day or two. Why not let someone else handle it? Order a supermarket shop online to be delivered the evening of your move so that the groceries arrive once you've unpacked the kitchen and the fridge freezer has been on all day. It's one less thing to worry about.

10. Keep a close eye on your first month's finances.
The first month after you've moved could throw your bank accounts up in the air with extra expenses that are either one-offs, or payments going out at different times to new suppliers. Make sure to keep a close eye on how much you're spending and that there's enough money in your accounts to cover it all.

Conclusion.
With our moving tips you should be able to save some cash on the big day. Of course if you want to save serious money on the cost of moving, make sure you start by choosing to sell your home with Hatched for a low, fixed fee.
Why not book a free valuation with your local Hatched estate agent today? When it comes to saving on property, it's the smart move.